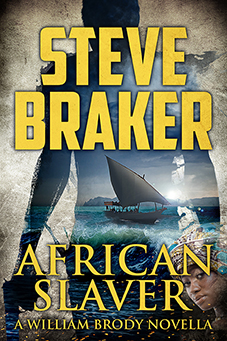 African Slaver
The first installment of the Willaim Brody action adventure series…
African Treasure
The second exciting installment of the Willaim Brody action adventure series…
African Paradise
The Third installment of the Willaim Brody action adventure series…
African Ivory
The Forth installment of the Willaim Brody action adventure series…
New Release
The Fourth in this fast paced action adventure series
All William Brody wants to do is dive, fish, and enjoy the relaxing world of the tropics.
 He spends the long hot days sailing his wooden dhow in the serene, azure waters of the Indian Ocean.
 The years of action are long behind him now. His nightmares of war and death fading into the past.
Slowly, he is relaxing into his new life.
 But, as usual, trouble come looking for him…
 Out fishing the rip currents for sword fish, thirty miles off shore, his line gets caught in the propeller of a smuggler's boat.
His quiet life of sailing and diving is ruined. Brody has to fight for a just cause: to save the last of the African elephants before the Chinese slaughter them all for profit.
 He is thrown into an evil world of slavery, corruption and poaching…
 On a two hundred mile journey along a crocodile infested river, in search of the people who wronged him and his crew, he finds a village full of corpses, making his mission personal.
 Brody and his crew are left in the jungle, outnumbered and out gunned, in a desperate fight to save the local tribe from murder and slavery.
Against the odds…
 All he has left to rely on is his special forces training to get the job done and save the day.
Get African Ivory on Amazon
Reader Reiview Club
If you would like to receive free advance copies of my new releases then sign up for the newsletter.
Steve Braker bio
Steve Braker was born in Cornwall in the UK. He grew up next to the ocean, fishing, surfing and camping along the beautiful English coast line.
After school he traveled through South East Asia, India and West Africa looking for inspiration. While working in London in the early nineties he fell in love with writing and wrote several short stories the basis for the William Brody Action Adventure Series. However, City life did not agree with Steve. After a few years the wandering bug caught him again. A passion for travelling and adventure lead him and his young family to East Africa. He fell in love with the people and the culture which has led him to write about his adventures along the coast in local newspapers and short stories.
Read more about Steve Braker on the about page.