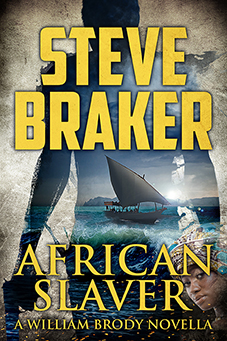 African Slaver. A Steve Braker Novella
The First in the Series
This is a fast paced action thriller. A real page turner!
Former Special Forces Major William Brody is taking some R and R. To clear the brutal shadows of the past from his mind.
Brody's next mission is clear: Spearfishing and Scuba Diving in tropical waters, with beers on the beach. He makes friends with the locals of the island retreat, but his plans for peace and relaxation are shattered.
A ruthless sea captain finally commits the unthinkable: he kidnaps a group of young girls from the village. The terrified islanders, look to Brody for help.
Time is running out… He rallies the villagers to form a rescue team, and realizes he is the only one with the skills for this kind of work. With basic weapons and a sailing boat, Brody falls back on his training and expertise. The lives of the girls are on the line, with the slave markets of Somalia only days away.
The clock is ticking… Brody leads his ragtag crew across the rough and lawless ocean, knowing they are the only hope for the young girls. Once Special Forces, always Special Forces, he's got this! or will die trying. Get African Slaver now, and enjoy Brody's roller coaster ride along the African coast…
Get your Free Copy of African Slaver Just Click on the Link
To get a copy of African Slaver by Steve Braker click on your home Amazon button